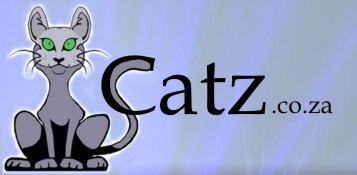 South African Breeder Directory.
Terms & Conditions / copy right
important information regarding this website and use there of.
First and formost respect all, slander and hate speach will NOT be tolerated. This website is intended to be a tool for breeders to educate, share and work together.

No unauthorised copying of any part of this web site is permitted. However, catz.co.za authorises you to make print copies of, or download documents or pages published by De catz.co.za on this web site for your own personal, non-commercial use only, provided that any copy of these documents that you make retains all copyright and other proprietary notices, and any disclaimer contained thereon. You may not offer for sale or distribute over any medium, any part of this web site or any of its content.

It is courtesy that if this website links to your breeder website you will back link.

All information supplied on this website is opinion based, the owner and contributors cannot be held liable in any way for mis-use, diagnosis or problems arrising from use of content. Content use is at own risk. The opinions expressed on this website catz.co.za do not necessarily represent the views of the owner / administrator or contributors.

Always consult a qualified vetenarian before medicating animals.

Although it is our wish that all breeders listed on this website are of ethical breeding practice it is your responsibility as the consumer to resesearch the breed and breeder before purchase. The owner and contributors to this site cannot take any responsibility or guarantee that kittens and / or cats purchased from breeders listed are in good health. Please go to the Ethics page for more information of what is expected of an ethical breeder.

The information contained in this website is for general information purposes only. The information is provided by catz.co.za and whilst we endeavour to keep the information up-to-date and correct, we make no representations or warranties of any kind, express or implied, about the completeness, accuracy, reliability, suitability or availability with respect to the website or the information, products, services, or related graphics contained on the website for any purpose. Any reliance you place on such information is therefore strictly at your own risk.
In no event will we be liable for any loss or damage including without limitation, indirect or consequential loss or damage, or any loss or damage whatsoever arising from loss of data or profits arising out of, or in connection with, the use of this website.
Through this website you are able to link to other websites which are not under the control of catz.co.za. We have no control over the nature, content and availability of those sites. The inclusion of any links does not necessarily imply a recommendation or endorse the views expressed within them.
Every effort is made to keep the website up and running smoothly. However, catz.co.za takes no responsibility for, and will not be liable for, the website being temporarily unavailable due to technical issues beyond our control.

Would you like to contribute?

We will require your full legal name, working e-mail address and telephone number. A Catz.co.za e-mail address can be set up for you.

We require that you have been a registered pedigree cat breeder for a minimum of 3 years for contribution to the breed profile page.

If you are a Pedigree pet owner and would like to add any information regarding your breed we will requre that you have owned your cat from the breed for a minimum of 2 years.

The open discussion forum is open to all however you will be required to furnish your full legal name and a working e-mail address for registration to contribute.

The breeder discussion forum is only open to registered breeders in South Africa. You will be required to furnish you full legal name, cattery name and working e-mail address.

If you are contributing information from another website it is expected that you provide the original link.

All contribution material will be of the contributors own writing and not plagorised or from copy righted material. The owner / administrator cannot be held liable should a contributor submit such material.

Contributors agree to the use of their name and cattery name / company name on this website.

It is at the sole discression of the owner / administrator if contributions will be used or replaced.

Members who apply to belong to the breeders only site agree that no information can be copied, forwarded or used maliciously.